Airbnb ou le design en partage
Airbnb, le site de partage de logements, est devenu en à peine 6 ans le premier « hôtelier » du monde. Le pari n'était pourtant pas gagné d'avance. Les fondateurs ont su trouver les ingrédients de la confiance entre propriétaires et locataires. Design, fonctionnalités, services : ils continuent à innover pour créer un nouveau style de vie autour du voyage. Aperçu des clés de ce succès.
Avant de connaître la réussite, le site de partage de logements a dû relever de nombreux challenges.
Rassurer et convaincre
À l'occasion d'une conférence internationale, les deux fondateurs Brian Chesky et Joe Gebbia hébergent des collègues sur 3 matelas gonflables dans leur petit appartement de San Francisco. Cet évènement sera à l'origine d'une idée de business à 10 milliards de dollars.
Dénommé initialement AirBed&Breakfast– jeu de mot entre "airbed", matelas gonflable et "bedandbreakfast" pour logement chez l'habitant – leur service connaîtra des débuts difficiles. 
Aucun investisseur ne croyait dans l' "idée stupide" que des propriétaires seraient prêts à accueillir des inconnus dans leur logement. Les deux designers financeront seuls leur développement en créant des boîtes de céréales à l'effigie des 2 candidats à la présidentielle américaine de 2008. Vendues 40$ pièce, ces boîtes leur rapporteront une coquette somme (30 000$) mais surtout feront connaître leur projet au grand public. Bingo : l'investisseur Paul Graham, une boîte de céréales en main, les invitera à rejoindre Y Combinator, le plus réputé des incubateurs de la Silicon Valley .
Paul Graham leur conseille de se concentrer sur New York, où les premières locations décollaient. Les 2 fondateurs prendront chaque week-end l'avion afin de recueillir de précieux feedbacks de leurs utilisateurs et tenter block par block d'en convaincre de nouveaux [lire ici le dialogue mythique entre Graham et l'investisseur fred Wilson].
Dans ce premier pitch aux investisseurs,  les fondateurs présentent les grands principes du service :
– partager sa culture en se connectant localement à la ville : susciter l'envie de voyager différemment, en partageant la "vraie vie" des locaux; louer l'appartement d'un habitant est une occasion unique de favoriser ce partage.
–  se concentrer sur le recrutement des hôtes  : le site intégrera de nombreuses fonctionnalités et services, notamment cautions et assurances, visant à rassurer les propriétaires de logement.
– miser sur le design et l'identité de marque : les fondateurs étaient déjà convaincus de la force d'une marque et de l'importance du design pour se distinguer des concurrents et transmettre la vision des fondateurs.
Le site et l'appli mobile accorderont une grande importance au design graphique pour traduire leur vision et mettre en valeur les propriétés.
Airbnb proposera aussi dès 2010 aux hôtes de faire réaliser des photos de leur logement par des professionnels.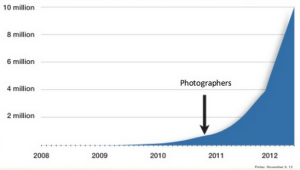 La mention "vérifiée par Airbnb" garantit le touriste contre les mauvaises surprises et rassure sur le rôle actif du site.
L' »effet whaou » est assuré. On partageait ses photos de vacances : on partagera désormais ses photos d'appartements loués sur Airbnb.
Ce service gratuit sera le déclencheur de la croissance du site : la fréquentation passe de quelques milliers en 2010 à 6 millions d'utilisateurs en 2012.
Développer une expérience exceptionnelle
Airbnb veut être plus qu'une simple "place de marché" d'hébergements touristiques. Sa devise  "se sentir chez soi partout dans le monde" met l'accent sur l'expérience : celle que vit le touriste qui découvre une ville "de l'intérieur" grâce au contact avec la personne qui le loge, et celle que vit le propriétaire en rencontrant son "invité" (guest). Le site va également développer de nombreuses fonctionnalités très intuitives : identification facile, recherche de logements et réservation facilitées, paiement en ligne ou encore  la célèbre "wish list" (liste d'envies) pour partager ses rêves de vacances.
Des "guides des quartiers" sont élaborés pour les villes les plus fréquentées. Ces guides proposent une recherche basée sur des critères originaux : vous pouvez choisir un quartier "vert", "bobo", "bien desservi", "artiste dans l'âme" et…"adoré des (habitants de la ville)". Les guides touristiques classiques deviennent obsolètes.
L'ambition est affichée : "If Apple has the iPad and iPhone, we have New York and Paris." ("Si Apple a l'iPad et l'iPhone, nous avons New York et Paris"). L'analyse des milliers de commentaires permet de proposer des informations toujours plus pertinentes. La « communauté » d'aficionados fournit – gratuitement – bons plans de restaurants, de magasins, de sorties,…
Soigner son image
2012 sera aussi l'année où Airbnb affirmera son style graphique, avec l'intervention de la géniale Kelli Anderson. (ne manquez pas l'invitation de mariage à 8'05).

La designer de Brooklyn va créer un système visuel dans un style très 50s, qui sera décliné tant pour le site que pour la communication institutionnelle de l'entreprise.


Ces visuels seront repris sur des milliers de sites, presse en ligne et blogs, contribuant à faire connaître le service des touristes, des hôtes et aussi…des investisseurs.
Fort de ce décollage, Airbnb bouclera une série de 6 levées de fonds pour près de 800 millions de dollars, ce  qui valorise la société à 10 milliards de dollars. De quoi ouvrir des bureaux et se développer partout dans le monde. En 2013, la plate-forme propose plus de 600.000 annonces de logement, dans 192 pays différents et plus de 34.000 villes, et double sa fréquentation chaque année. Un géant mondial du tourisme est né (et pardon pour tous ces chiffres).
Devenir un « style de vie »
« We want to build journeys, not just destinations" (« nous voulons construire des voyages, pas que des destinations"). Airbnb lance en 2014 une refonte totale de son identité visuelle, logo, site et application.
Katie Dill , directrice de création du célèbre studio Frog Design (notamment designer des premiers Macintosh) rejoint l'entreprise comme nouvelle responsable du design. Elle détaille son ambition dans deux interviews récentes au magazine Wired (voir ici et là). Extraits :
« L'objectif des prochaines années est de mettre en avant les hôtes plutôt que leurs superbes appartements. L'entreprise veut absolument être définie non pas comme un succédané d'hôtel mais comme une marque de style de vie (lifestyle brand) avec toutes les possibilités de création de produits et services que cela entraîne. Cet objectif passe par le redesign de nos supports. Le nouveau site diminue la place des photos de maisons pour mieux montrer des petites tranches de vie : des gens qui font du shopping, qui jouent de la guitare ».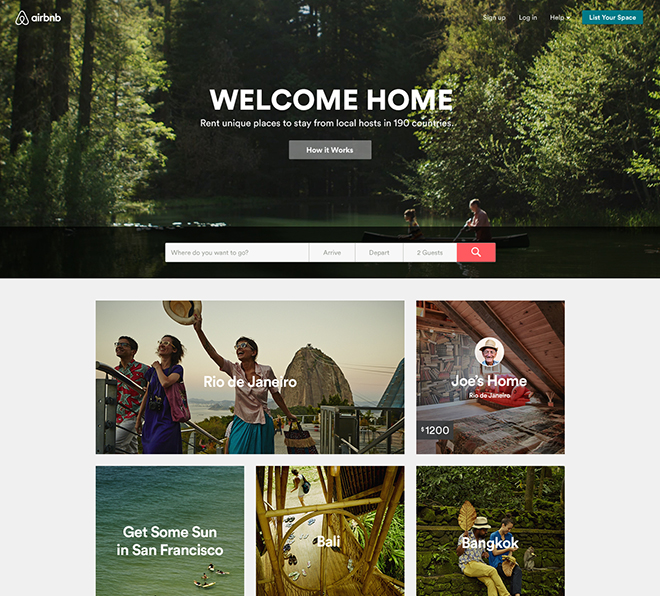 "Cette expérience – se sentir chez soi partout où vous êtes – est unique à Airbnb. Par conséquent le produit doit parler d'expériences, pas seulement de propriétés. Nous voulons évoquer cela avec des images/visuels. Quand un invité et un hôte interagissent au travers de notre application, ils doivent sentir qu'ils font partie de la même chose. La cohérence du design vous donne la paix de l'esprit et la sensation que vous êtes dans un endroit stable pour construire une relation. Chaque fois qu'un application buggue, que sa trame visuelle est mal alignée, que les typographies sont mal traitées,… vous commencez à vous demander quoi d'autres est mal fichu. Que va-t-il arriver à mon argent ? Vont-ils me protéger s'il y a un problème ? Vous pouvez régler ceci en prenant soin des détails."
Katie Dill présente enfin les produits de l'Airbnb du futur : "Un jour, Airbnb aura un impact sur l'ensemble des aspects du voyage – nous voulons vous aider à trouver des choses intéressantes à voir et de meilleures façons de s'en souvenir. Pour ce faire, nous devons penser à chaque étape de l'expérience. Mais je n'ai pas trouvé dans ma carrière beaucoup d'organisations qui font cet effort, car les équipes travaillent en silo. Les utilisateurs peuvent sentir cet déconnexion. Notre but est de créer un parcours fluide d'une étape à la suivante ».
Conclusion
T.J. Watson, le CEO d'IBM, écrivait aux employés de l'entreprise dans une lettre célèbre de 1966 : "Good design is good business. Imaginative use of design helps to sell our products" (« Le bon design est bon pour le business. L'utilisation imaginative du design nous aide à vendre nos produits »). Comme sa voisine californienne Uber, Airbnb n'a pas besoin de salariés ni de propriétés pour proposer une expérience de services exceptionnelle à ses clients. Elle a compris que pour y parvenir, il fallait élever son niveau de design à un point rarement atteint. Et innover sans relâche pour ses clients.
Good design is good business.
Si vous avez aimé cet article, partagez-le !