Votre plateforme brûle-t-elle ?
Comment peut-on posséder 65% d'un marché en pleine croissance et disparaître corps et biens quelques années plus tard ? À l'ère du numérique, il est indispensable de comprendre les raisons de la chute vertigineuse du géant finlandais Nokia pour réaliser l'ampleur des bouleversements en cours dans le monde industriel. Votre plateforme brûle, il est peut-être encore temps de sauter.
L'histoire des technologies retiendra peut-être que Nokia a introduit le premier téléphone embarqué dans une voiture en 1982, réalisé le premier appel téléphonique utilisant la norme GSM en 1991 et lancé le premier smartphone en 1996. Elle retiendra plus sûrement que la même firme a dû céder en 2013 l'ensemble de ses activités mobiles à Microsoft pour à peine 5 milliards de dollars, alors qu'elle possédait encore 65% des parts de marché en 2007.
Que s'est-il passé durant cette période ? Un produit concurrent s'est-il imposé grâce à une technologie révolutionnaire ? Des prix nettement plus bas ? Un marketing plus efficace ? Pas exactement. Ou plutôt, beaucoup plus que cela. Nokia a été saisi par un bouleversement profond de l'ensemble de son écosystème, orchestré à un rythme d'enfer par deux « outsiders » – Apple et Google – qui n'avaient jamais produit de téléphone avant 2007. Les deux américains n'ont pas seulement battu Nokia sur le terrain des appareils mobiles. Ils ont changé à la fois la manière d'utiliser ces appareils, la manière de les produire et la manière de produire les innovations qui rendent les utilisateurs dingues de leurs appareils.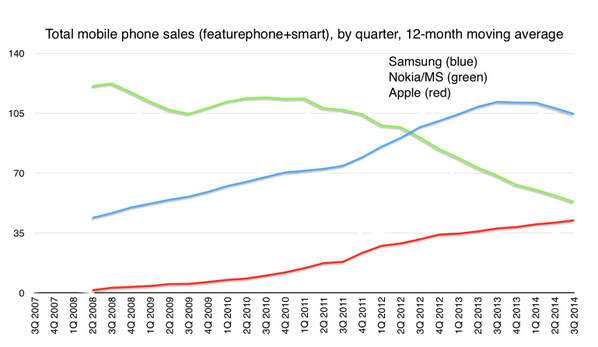 Pas étonnant que Stephen Elop, le patron de Nokia, dans une note interne mémorable, parla de « plateforme en feu » (burning platform) pour alerter ses équipes sur la situation du géant finlandais début 2011. La métaphore est soigneusement choisie : en juillet 1988, la plateforme pétrolière géante Piper Alpha est détruite par un incendie catastrophique au large de l'Écosse. 168 personnes perdront la vie et seuls 63 travailleurs de la plateforme survivront au drame. Parmi les survivants, le témoignage d'Andy Mochan fut le plus marquant. Gravement blessé par l'explosion, il s'est extirpé des baraquements jusqu'au bord de la plateforme. En dessous de lui, 53 mètres plus bas, la mer glacée charrie des débris de métal et le pétrole qui la recouvre commence à s'embraser. Malgré les risques, Andy saute. Il survivra et dira simplement : « c'était sauter ou griller« . Il a choisi une mort possible pour éviter une mort certaine.
Stephen Elop a pris les rennes de Nokia et ses 132 000 employés quelques mois auparavant. Dans son mémo publié en février 2011, quelques jours avant le Mobile World Congress, il évoque le témoignage d'Andy (NB : j'en traduis ici librement des extraits; le texte intégral est en fin d'article) :
« L'homme qui se tient sur la plateforme en feu doit faire un choix. Il décide de sauter. C'était inattendu. Dans des circonstances ordinaires, l'homme n'aurait jamais choisi de sauter 50 mètres plus bas dans des eaux glacées. Mais nous n'étions pas dans des temps ordinaires. Sa plateforme était en feu. L'homme survécut à la chute et à la noyade. Et après son sauvetage, il se souvint que la plateforme en feu avait causé en lui un changement de comportement radical.
Nous aussi, nous nous tenons sur une plateforme en feu et nous devons décider si nous allons changer notre comportement. Dans les mois précédents, j'ai partagé avec vous ce que j'ai entendu de nos actionnaires, opérateurs, développeurs et fournisseurs. Aujourd'hui je vais partager avec vous ce que j'ai appris et ce que je crois.
Ce que j'ai appris c'est que nous étions sur une plateforme en feu. Il ne s'agit pas d'une explosion isolée, nous avons de multiples incendies qui alimentent une fournaise ardente autour de nous. Par exemple, une chaleur intense vient de nos compétiteurs, plus rapidement que nous l'attendions. Apple a disrupté le marché en réinventant le smartphone et en attirant les développeurs dans un écosystème fermé mais très puissant [NB : sur l'écosystème d'Apple, lire notre article ici].
En 2008, la part de marché d'Apple pour les smartphones supérieurs à 300$ était de 25%. En 2010 elle s'élevait à 61%. Ils connaissent une impressionnante croissance avec une augmentation de 78% sur une année au 4ème trimestre de 2010. Apple a démontré qu'avec un bon design, les consommateurs étaient prêts à acheter un téléphone à un prix élevé pour peu qu'ils aient une super expérience utilisateur et des développeurs qui créent des applications. Ils ont changé le jeu et aujourd'hui c'est Apple qui détient la catégorie haut-de-gamme du marché.
D'un autre côté, il y a Android. En 2 ans à peine, Android a créé une plateforme qui attire les développeurs d'application, fournisseurs de services et fabricants d'appareils. Android est entré par le haut-de-gamme, gagne le moyenne gamme et descend rapidement vers des téléphones inférieurs à 100 $. Google est devenu une force de gravité, attirant l'essentiel de l'innovation industrielle vers son coeur.
N'oublions pas le bas-de-gamme. En 2008, Mediatek fournissait déjà l'ensemble des composants électroniques nécessaires, permettant aux fabricants de la région de Shenzhen de produire des téléphones à un rythme incroyable. Cet écosystème produit maintenant plus du tiers des téléphones vendus dans le monde, nous prenant des parts dans les marchés émergents.
Et pendant que nos concurrents nous prenaient des parts de marché, que se passait-il chez Nokia ? Nous sommes restés à la traîne, nous avons raté les grandes tendances, et nous avons perdu du temps. À l'époque, nous pensions prendre les bonnes décisions; mais, rétrospectivement, nous réalisons que nous avons pris des années de retard.
Les premiers iPhone ont été sortis en 2007 et nous n'avons toujours pas de produits comparables en termes d'expérience. Entré en scène il y a à peine 2 ans Android a pris notre place de leader du marché cette semaine. Incroyable.
Nous avons de brillantes ressources d'innovation chez Nokia, mais nous ne les mettons pas sur le marché assez vite. »
Elop insiste ensuite sur l'incapacité de Nokia à développer un ou des système(s) d'exploitation(s) « dans lesquels les développeurs peuvent facilement rencontrer les attentes grandissantes des utilisateurs« . C'est pour lui le point crucial, bien plus que celui des appareils : « l'aspect le plus déroutant est que nous ne nous battons pas avec les bonnes armes. Nous essayons toujours d'approcher chaque catégorie de prix sur une base d'appareil à appareil. La bataille des appareils est devenue maintenant une guerre des écosystèmes, où l'écosystème inclut non seulement le hardware et le software de l'appareil, mais aussi les développeurs, les applications, l'e-commerce, la publicité, la recherche en ligne, les réseaux sociaux, les services géolocalisés, les applications de tchat en ligne et beaucoup d'autres choses« .
Et le Canadien de prononcer cette sentence qui sonne comme l'épitaphe des entreprises de l'ancienne économie : « Nos concurrents ne nous prennent pas nos parts de marché avec des téléphones; ils prennent nos parts de marché avec un écosystème tout entier« .
Le CEO pointe les responsabilités : « comment en sommes-nous arrivés là ? Pourquoi tombons-nous alors que le monde entier autour de nous évolue ? C'est ce que j'essaie de comprendre. Je crois qu'au moins une partie de ce problème vient de notre attitude à l'intérieur de l'entreprise. Nous avons arrosé notre propre plateforme avec du gas-oil (…). Nous n'avons pas livré d'innovations en interne. Nous n'avons pas collaboré assez en interne (…). Mais je crois qu'ensemble, nous pouvons choisir de définir notre futur ».
Quelques jours après la diffusion de cette note, Elop annoncera l'adoption par Nokia du système d'exploitation mobile de Windows Phone 7. Le géant américain, lui-même mal en point sur ce marché, entraînera le finlandais dans sa chute. Les ventes ne décolleront pas. Nokia passera de 130 à 57 000 employés entre 2012 et 2014. Elop lui retournera chez Microsoft en 2014 pour prendre la division Matériel qui comprend les tablettes Surface, la X Box et…les mobiles Nokia/Lumia. Les rumeurs de l'époque affirmeront que Elop a refusé une proposition de partenariat de Google pour adopter le système d'exploitation Android. Les mauvaises langues diront que les liens d'Elop avec la firme de Seattle (dont il était un ancien employé) l'ont poussé à privilégier le plus mauvais des scenarios. Nokia a donc sauté d'une plateforme en flammes sur une autre plateforme en flammes, et a coulé avec elle.
Quelles leçons en tirer ? Dans le nouvel ordre numérique, il ne suffit pas de faire les meilleurs produits et les meilleurs logiciels, il faut créer un environnement dans lequel les développeurs ont envie de créer et un écosystème industriel dans lequel d'autres entreprises (sous-traitants, fournisseurs, fabricants d'accessoires, communiquants,…) ont envie d'investir en priorité. Rien n'a changé depuis 2011. Au contraire. Après « le logiciel dévore le monde » (Marc Andreessen), ce sont les API qui dévorent le logiciel. Soucieux de vous procurer la meilleure expérience utilisateur, les géants du numérique créent de nouveaux services qui « encapsulent » les autres dans le soucis de vous proposer une expérience fluide et sans couture. Votre taxi Uber vous attend à la sortie de votre restaurant, sans même avoir besoin d'ouvrir l'application. Google Now vous informe du retard de votre avion. Vous pouvez discuter directement avec votre marque préférée, payer et suivre la livraison de votre achat sans quitter Facebook Messenger. La question n'est plus de savoir si votre service sera transformé en application, mais de savoir si votre application sera à son tour « diluée » dans une interface unique que vous ne maîtriserez pas (à lire ici).
Vous pouvez ne rien faire. Vous pouvez décider de ne pas accepter d'être réduit au rang de simple « marque blanche » au service de ces interfaces. Mais si votre concurrent y est, vous disparaîtrez à coup sûr pour vos utilisateurs. Ce n'est plus votre plateforme qui brûle, c'est l'océan tout entier.
Si vous avez aimé cet article, vous pouvez le partager
Le texte intégral et en anglais de la note de Stephen Elop :
There is a pertinent story about a man who was working on an oil platform in the North Sea. He woke up one night from a loud explosion, which suddenly set his entire oil platform on fire. In mere moments, he was surrounded by flames. Through the smoke and heat, he barely made his way out of the chaos to the platform's edge. When he looked down over the edge, all he could see were the dark, cold, foreboding Atlantic waters.
As the fire approached him, the man had mere seconds to react. He could stand on the platform, and inevitably be consumed by the burning flames. Or, he could plunge 30 meters in to the freezing waters. The man was standing upon a "burning platform," and he needed to make a choice.
He decided to jump. It was unexpected. In ordinary circumstances, the man would never consider plunging into icy waters. But these were not ordinary times – his platform was on fire. The man survived the fall and the waters. After he was rescued, he noted that a "burning platform" caused a radical change in his behaviour.
We too, are standing on a "burning platform," and we must decide how we are going to change our behaviour.
Over the past few months, I've shared with you what I've heard from our shareholders, operators, developers, suppliers and from you. Today, I'm going to share what I've learned and what I have come to believe.
I have learned that we are standing on a burning platform.
And, we have more than one explosion – we have multiple points of scorching heat that are fuelling a blazing fire around us.
For example, there is intense heat coming from our competitors, more rapidly than we ever expected. Apple disrupted the market by redefining the smartphone and attracting developers to a closed, but very powerful ecosystem.
In 2008, Apple's market share in the $300+ price range was 25 percent; by 2010 it escalated to 61 percent. They are enjoying a tremendous growth trajectory with a 78 percent earnings growth year over year in Q4 2010. Apple demonstrated that if designed well, consumers would buy a high-priced phone with a great experience and developers would build applications. They changed the game, and today, Apple owns the high-end range.
And then, there is Android. In about two years, Android created a platform that attracts application developers, service providers and hardware manufacturers. Android came in at the high-end, they are now winning the mid-range, and quickly they are going downstream to phones under €100. Google has become a gravitational force, drawing much of the industry's innovation to its core.
Let's not forget about the low-end price range. In 2008, MediaTek supplied complete reference designs for phone chipsets, which enabled manufacturers in the Shenzhen region of China to produce phones at an unbelievable pace. By some accounts, this ecosystem now produces more than one third of the phones sold globally – taking share from us in emerging markets.
While competitors poured flames on our market share, what happened at Nokia? We fell behind, we missed big trends, and we lost time. At that time, we thought we were making the right decisions; but, with the benefit of hindsight, we now find ourselves years behind.
The first iPhone shipped in 2007, and we still don't have a product that is close to their experience. Android came on the scene just over 2 years ago, and this week they took our leadership position in smartphone volumes. Unbelievable.
We have some brilliant sources of innovation inside Nokia, but we are not bringing it to market fast enough. We thought MeeGo would be a platform for winning high-end smartphones. However, at this rate, by the end of 2011, we might have only one MeeGo product in the market.
At the midrange, we have Symbian. It has proven to be non-competitive in leading markets like North America. Additionally, Symbian is proving to be an increasingly difficult environment in which to develop to meet the continuously expanding consumer requirements, leading to slowness in product development and also creating a disadvantage when we seek to take advantage of new hardware platforms. As a result, if we continue like before, we will get further and further behind, while our competitors advance further and further ahead.
At the lower-end price range, Chinese OEMs are cranking out a device much faster than, as one Nokia employee said only partially in jest, "the time that it takes us to polish a PowerPoint presentation." They are fast, they are cheap, and they are challenging us.
And the truly perplexing aspect is that we're not even fighting with the right weapons. We are still too often trying to approach each price range on a device-to-device basis.
The battle of devices has now become a war of ecosystems, where ecosystems include not only the hardware and software of the device, but developers, applications, ecommerce, advertising, search, social applications, location-based services, unified communications and many other things. Our competitors aren't taking our market share with devices; they are taking our market share with an entire ecosystem. This means we're going to have to decide how we either build, catalyse or join an ecosystem.
This is one of the decisions we need to make. In the meantime, we've lost market share, we've lost mind share and we've lost time.
On Tuesday, Standard & Poor's informed that they will put our A long term and A-1 short term ratings on negative credit watch. This is a similar rating action to the one that Moody's took last week. Basically it means that during the next few weeks they will make an analysis of Nokia, and decide on a possible credit rating downgrade. Why are these credit agencies contemplating these changes? Because they are concerned about our competitiveness.
Consumer preference for Nokia declined worldwide. In the UK, our brand preference has slipped to 20 percent, which is 8 percent lower than last year. That means only 1 out of 5 people in the UK prefer Nokia to other brands. It's also down in the other markets, which are traditionally our strongholds: Russia, Germany, Indonesia, UAE, and on and on and on.
How did we get to this point? Why did we fall behind when the world around us evolved?
This is what I have been trying to understand. I believe at least some of it has been due to our attitude inside Nokia. We poured gasoline on our own burning platform. I believe we have lacked accountability and leadership to align and direct the company through these disruptive times. We had a series of misses. We haven't been delivering innovation fast enough. We're not collaborating internally.
Nokia, our platform is burning.
We are working on a path forward — a path to rebuild our market leadership. When we share the new strategy on February 11, it will be a huge effort to transform our company. But, I believe that together, we can face the challenges ahead of us. Together, we can choose to define our future.
The burning platform, upon which the man found himself, caused the man to shift his behaviour, and take a bold and brave step into an uncertain future. He was able to tell his story. Now, we have a great opportunity to do the same.
Stephen.